Moderator: Hogan
Yes. EXCELLENT FUN TIMES AHEAD! My comic Mijime Da is here:
http://www.drunkduck.com/Mijime_Da/
. These characters will be attending the party: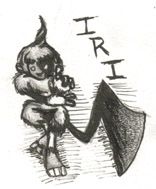 I like meeting new peeps! IM me! TroubleIn315 is my aim screen name!
____________________________________
www.freeweb.com/jeffGOLD
DM of Deities
Posts: 3663
Joined: Wed May 18, 2005 10:38 pm
Location: Denmark, Kingdom of Adventures
Contact:
Oooooh yeaaaah!
Thanks for accepting the invitation Frae! By the look of it you'll be sending a couple of characters that will be sure to kick up a party!
Hookey Hey!